Technology Law 4.0 Lecture Series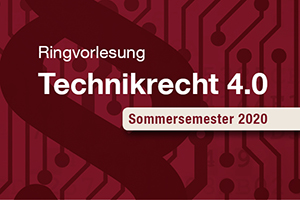 During summer term 2020, Prof. Dr. Franz Hofmann, LL.M. and his colleagues Prof. Dr. Michael Grünberger and Prof. Dr. Janal (Universität Bayreuth) will run again a lecture series focussing on problems in the field of modern Technology Law. The objective is to identify research issues of Technology Law in the 21st century.
The lectures will take place alternately in Erlangen and Bayreuth. "Drinks and nibbles" will be served afterwards.
More information (in German) on the programme can be found in the event flyer.
Update: Due to the Corona crisis the lectures had to be cancelled. On July 8, 2020 there will be a zoom discussion (in German) with Dr. Till Kreutzer on "The Berlin Gedankenexperiment on the restructuring of Copyright Law and Author's Rights – Creators – Exploiters – Non-commercial Users – Intermediaries".
For more information please see https://www.jipitec.eu/issues/jipitec-7-2-2016/4435
Link to the zoom conference: https://fau.zoom.us/j/93470420764
Meeting-ID: 934 7042 0764