Conference "Eigentum in der digitalen Gesellschaft"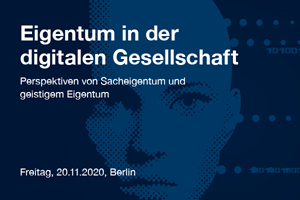 Property rights are being challenged in the digital age.
This applies both to physical property and intellectual property.
However, in private law jurisprudence, these rights are dealt with in two different discourses.
In the conference "Ownership in the digital society. Perspectives of Physical Property and Intellectual Property," these two discourses are brought together.
Inter alia, the findings on the allocation of intangible goods can be made fruitful for the scope of property ownership.
Organisers:
Prof. Dr. iur. Dipl.-Biol. Herbert Zech, Humboldt-Universität zu Berlin, Weizenbaum Institut
Prof. Dr. Benjamin Raue, Universität Trier, Institut für Recht und Digitalisierung
Prof. Dr. Franz Hofmann, LL.M., Friedrich-Alexander-Universität Erlangen-Nürnberg, Institut für Recht und Technik
The programme and more information (in German) can be found in the conference flyer.
For registration please use our application form (German only).