Interdisciplinary lecture "IP from the perspective of Engineering" Summer Term 2022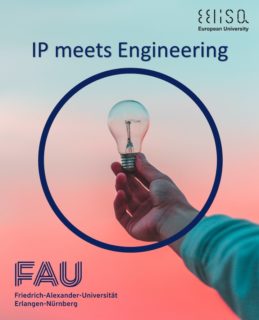 The lecture particularly aims to address students with a technical background (e.g. engineering) all around Europe interested in Intellectual Property and management. The lecture not only provides an overview of the most important intellectual property rights from an international point of view, but also looks at the topic through the lens of strategic management. The approach of the lecture is interdisciplinary. The focus lies on practical impacts of IP rights and respective challenges from a business perspective.
The lecture is open to all students within the EELISA alliance.
International students: The course is only accessible after EELISA registration.
FAU students: Direct registration via StudOn. For more information please see IP meets Engineering.