Events
Programmes and Picture Galleries of our events
Inaugural Lecture of Prof. Hofmann
Technology Law 4.0 Lecture Series
Technology Law 4.0 Lecture Series
The lecture series focusses on problems in the field of modern Technology Law. The objective is to identify research issues of Technology Law in the 21st century. The lectures take place alternately in Erlangen and Bayreuth.
Summer Semester 2020
Winter Semester 2019/2020
Summer Semester 2019
Winter Semester 2018/2019
Summer Semester 2018
Summer Semester 2020
Due to the Corona pandemic, the lecture on 27 May 2020 had to be cancelled. The lecture on 8 July 2020 was held via Zoom.
Winter Semester 2019/2020
Lecture on 13 November 2019 in Erlangen
Lecture on 17 December 2019 in Bayreuth
Summer Semester 2019
Lecture on 19 June 2019 in Bayreuth
Lecture on 10 July 2019 in Erlangen
Winter Semester 2018/2019
Lecture on 28 November 2018 in Bayreuth
Lecture on 23 January 2019 in Erlangen
Summer Semester 2018
Lecture on 25 April 2018 in Erlangen
Lecture on 16 May 2018 in Bayreuth
Lecture on 27 June 2018 in Erlangen
Inaugural Lecture of Prof. Hofmann on 25 January 2018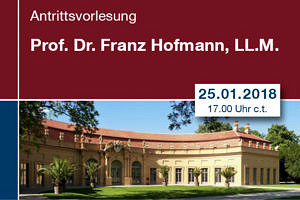 ---