Digital Conference "Eigentum in der digitalen Gesellschaft"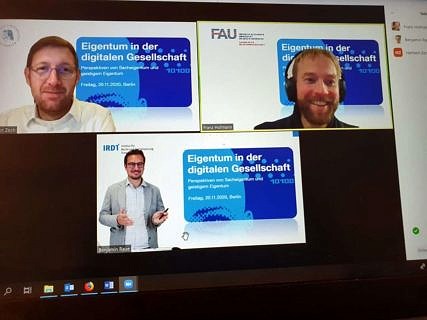 On 20 November the conference "Eigentum in der digitalen Gesellschaft – Perspektiven von Sacheigentum und geistigem Eigentum" – organised by Prof. Dr. Benjamin Raue (University of Trier, Institute of Law and Digitalisation), Prof. Dr. iur. Dipl.-Biol. Herbert Zech (Humboldt-University of Berlin, Weizenbaum Institute) und Prof. Dr. Franz Hofmann, Director of the Institute of Law and Technology – was held online and met with good response of more than 100 participants.
Property rights are being challenged in the digital age.
This applies both to physical property and intellectual property. However, in private law jurisprudence, these rights are dealt with in two different discourses.
The aim of the conference "Ownership in the digital society. Perspectives of Physical Property and Intellectual Property" was to bring the two discourses  together. The main focus was on how the findings on the allocation of intangible goods can be made fruitful for the scope of property ownership.
The programme (in German) can be found in the conference flyer.